Cahoots 2023!
TICKETS ARE LIVE
www.tinyurl.com/Cahoots2023
(more info about the festival below the image)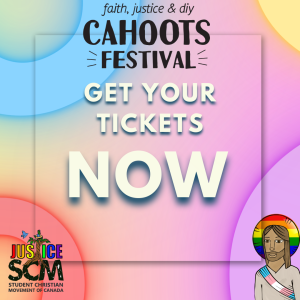 Our tenth annual festival will be held May 25 -28, 2023 at Pearce Williams Family Camp, Fingal ON. From Thursday evening to Sunday noon we will share DIY and art workshops, speaker sessions, facilitated conversations, singing and praying, and of course a dance party!
Check out what workshops are happening this year –> THE WORKSHOPS
And stay tuned to this page as well because we will be updating this with the schedule, so you know when the workshops you want to attend will be happening. We'll also be posting here when the tickets officially go on sale! So stay tuned, check out the workshops, follow us on the socials, share what you see, and…
WE WILL SEE YOU IN MAY!